Unfortunately due to my hectic schedule, eating healthy has taken a backseat to my other commitments and priorities. I was eating small, unbalanced breakfasts, skipping lunches altogether, partaking in quick drive-through snacks, and eating late-night dinners after 9 p.m. Sound familiar?
Even worse were the side effects of my poor eating choices. I was repeatedly finding myself irritable, ravenous and upset with myself for paying such little attention to how I was treating my body.
I woke up one morning, cranky and annoyed at the 15 pounds I had managed to acquire over the year, looked in the mirror and decided something had to be done. Blaming this downward spiral on my tight schedule, I knew I had to be realistic in my plan of action. With minimal time in my day to grocery shop for fresh ingredients and to prepare and pack meals-a personal chef would have been a great option, but a little on the unrealistic side-the idea of a delivery diet seemed to make sense.
I chose The Fresh Diet and signed myself up for a one-week trial to see if I would notice any changes to how I was looking and feeling. The decision was easy; the three gourmet meals, two sides and two snacks are not frozen, freeze-dried or vacuum packed like so many other delivery plans I've seen. The meals are actually prepared by real executive chefs in local kitchens, and delivered to your door each morning before 8 a.m. I could choose the ingredients I dislike (i.e. cilantro and beets), select my daily calorie amount and choose all three meals and snacks from their extensive daily menu options. But I had my apprehensions. What would it taste like? Would it be enough food? Did I have to give up dessert?
I was pleasantly surprised. Each morning, I was welcomed by a green, insulated cooler on my doorstep containing the day's meals. The cooler bag was great because my lunch was ready to take with me. The food consistently tasted delicious and left me satisfied. But the real icing on the portion-controlled cake was that I got to eat dessert-every night!
After my first few days on The Fresh Diet I stopped craving sugar, was much less irritable and had noticed a little extra room in my jeans. (I actually had to wash and dry a few pairs to keep them from falling off.) I was no longer eating dinner late at night and I always had something nutritious and enjoyable to eat at lunchtime, no matter where I was. The convenience and quality of this meal plan made it easy to incorporate into my somewhat inflexible routine. I've already signed myself up for the month-long program.
For more on fresh diet visit The Fresh Diet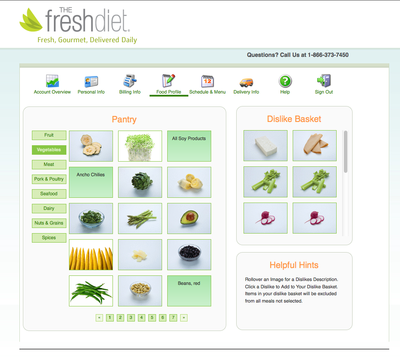 Related:
Is Your Health Food Fooling You?
The Truth Behind Comfort Eating
Find a Doctor
Find a NewBeauty "Top Beauty Doctor" Near you